Iman Al-Obeidi: "Every Day I Am Beaten" (NPR audio)
Uncategorized
Apr 04, 2011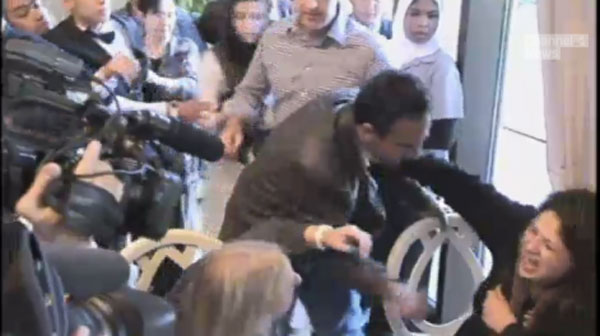 Iman al-Obeidi burst into the Rixos hotel in Tripoli, Libya on March 26 to tell foreign journalists that she had been detained for two days after being arrested at a checkpoint, then raped by up to 15 men while in custody. A violent scene erupted at the hotel, authorities threw a blanket over her head and whisked her away, and requests by reporters to interview her or confirm her whereabouts have since been denied. But NPR has now reached al-Obeidi by phone. The story she tells is alarming. She says a doctor has confirmed that she "was raped violently," that the men who allegedly raped her have not been arrested, and that she cannot leave her home because every time she does, she is beaten by strangers.
Iman al-Obeidi, who last month told reporters in Tripoli that she had been beaten and raped by men loyal to Moammar Gadhafi, tells NPR she is no longer in custody.
But, she says, "every day I am beaten."
And she fears for her life: "They threaten us with murder," she said by telephone from Libya to our colleague Soraya Sarhaddi Nelson's translator in Cairo. Her sister, Obeidi said, is also in danger.
Obeidi burst into a Tripoli hotel on March 26. As she tried to tell reporters about what she says had been done to her, she was dragged away by authorities in a dramatic scene played out in front of dozens of cameras.
"They took me to a prison" for 72 hours after that, she told NPR today. When she was allowed to go home, "they stopped me again and they stopped me three times, the last time was yesterday" — when, she says, she was "beaten very hard [so] that I can't even leave my bed today."
NPR cannot at this time independently verify her accounts. The Gadhafi government has threatened to press criminal charges against her for allegedly making false accusations. Audio and transcript here (NPR.org, thanks Andy Carvin)
Obeidi also spoke with CNN today, which says it will broadcast an interview with her tonight at 10 p.m. ET on AC360.