Should The Leather Man, 19th-c. proto-hobo of New York, be exhumed?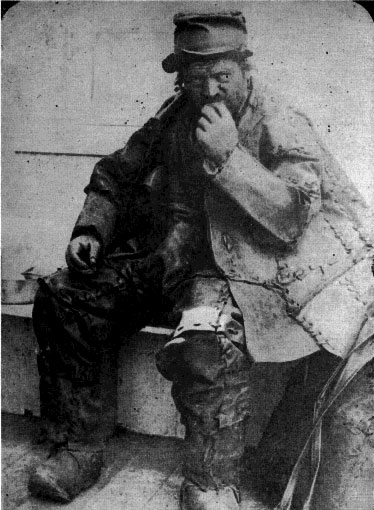 The Leather Man lived the simplest of lives in the mid- to late 1800s, walking the countryside in a set pattern through parts of Connecticut and New York, sleeping in caves, saying very little, living off the land and, later, eating through the kindness of strangers. He became a folk hero, as much for the mystery of his past as for the uniqueness of his lifestyle and personality.
122 years after his death, the Leather Man is at the center of a controversy: historians want to dig his remains up from a cemetery in Ossining, N.Y., because of the site's "dangerous proximity" to a busy road, and because they want to perform forensic tests, due to his historical significance.
A local middle school history teacher, Don Johnson, wants them to leavetheleathermanalone.com. He "uses the life of the Leather Man to teach students about prejudice, bullying, harassment, stereotyping and recycling." There's even a Facebook page for those who want to leave his grave undisturbed.
(via BB Submitterator, thanks Jack)